MegaEase Cloud 2023.07 New Features Released
Previously on
MegaEase made a number of significant updates to the MegaEase Cloud in July 2023:
New Features for GPU Services

Customized template function

Platform paid features

Tenant Balance
Paid Plans
Quota expansion
Chargeback
New Features for GPU Services
This service is currently only available on cloud.megaease.cn, cloud.megaease.com is not available due to network reasons.
You can now customize the services that run on the GPU!
After the launch of GPU service, many users asked us how they can run their services on leased GPUs. In order to make GPUs more applicable, we have introduced the Custom Templates feature on MegaEase Cloud, which now allows users to run services that meet their needs for scenarios, instead of relying on a few simple templates provided by the platform to perform some scenario-constrained tasks as before. With this feature, users can simply provide MegaEase with the image access authorization and some meta information, and MegaEase can run the customized template on the user's leased GPU, and provide the corresponding web console portal.
How to customize the template
Create Custom Template: You can go to the side navigation bar -> [Template] page and click the [Create Template] button in the upper right corner to create your own template.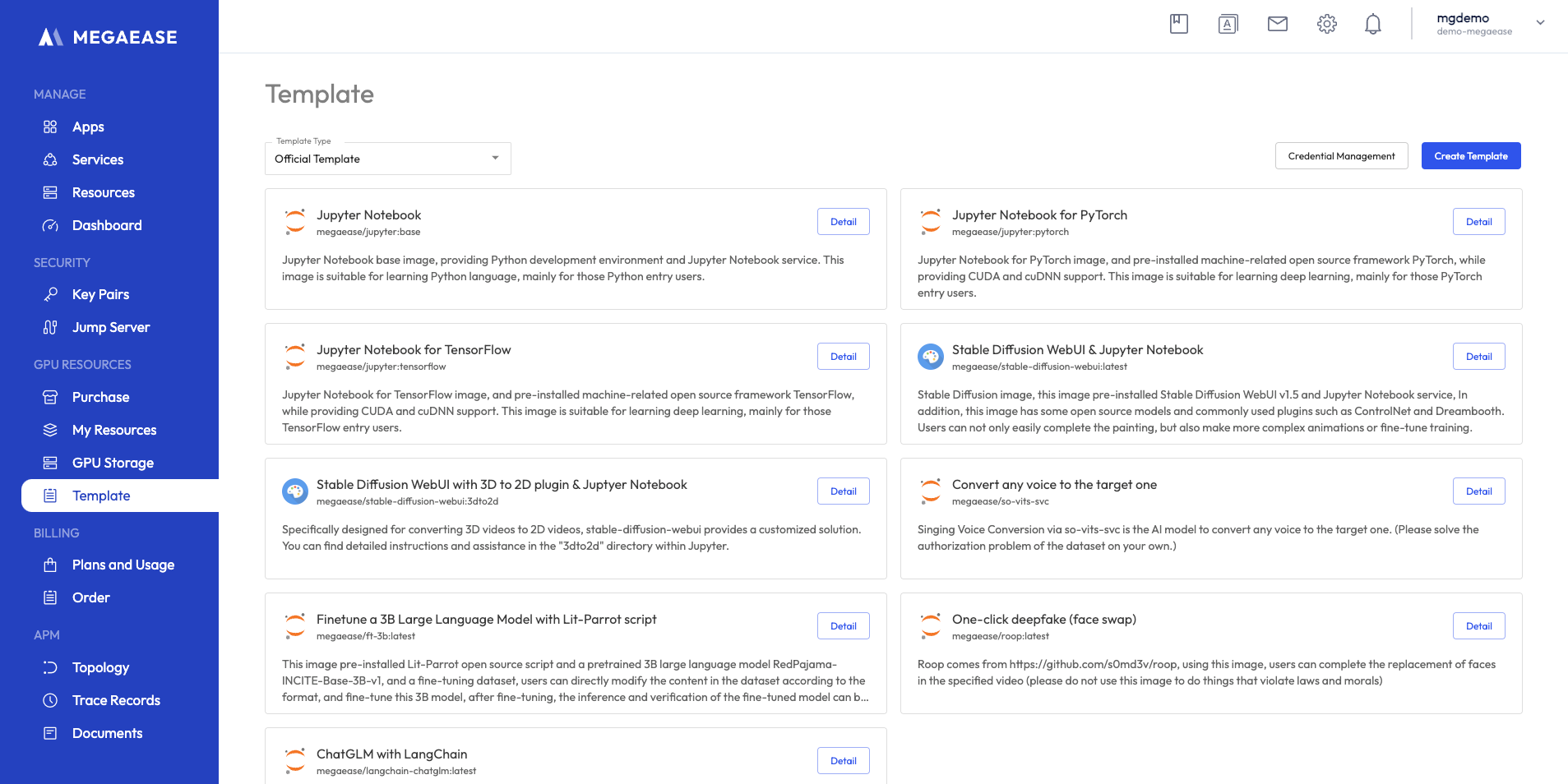 You need to fill in the template title, image information, and if it is your private image, you also need to provide a Credential with pull permission for us to pull the image when we start the task for you. You can also set environment variables, start commands, ports and other information.
Note: Please make sure that the mirror you provide is a mirror that is accessible on the Internet.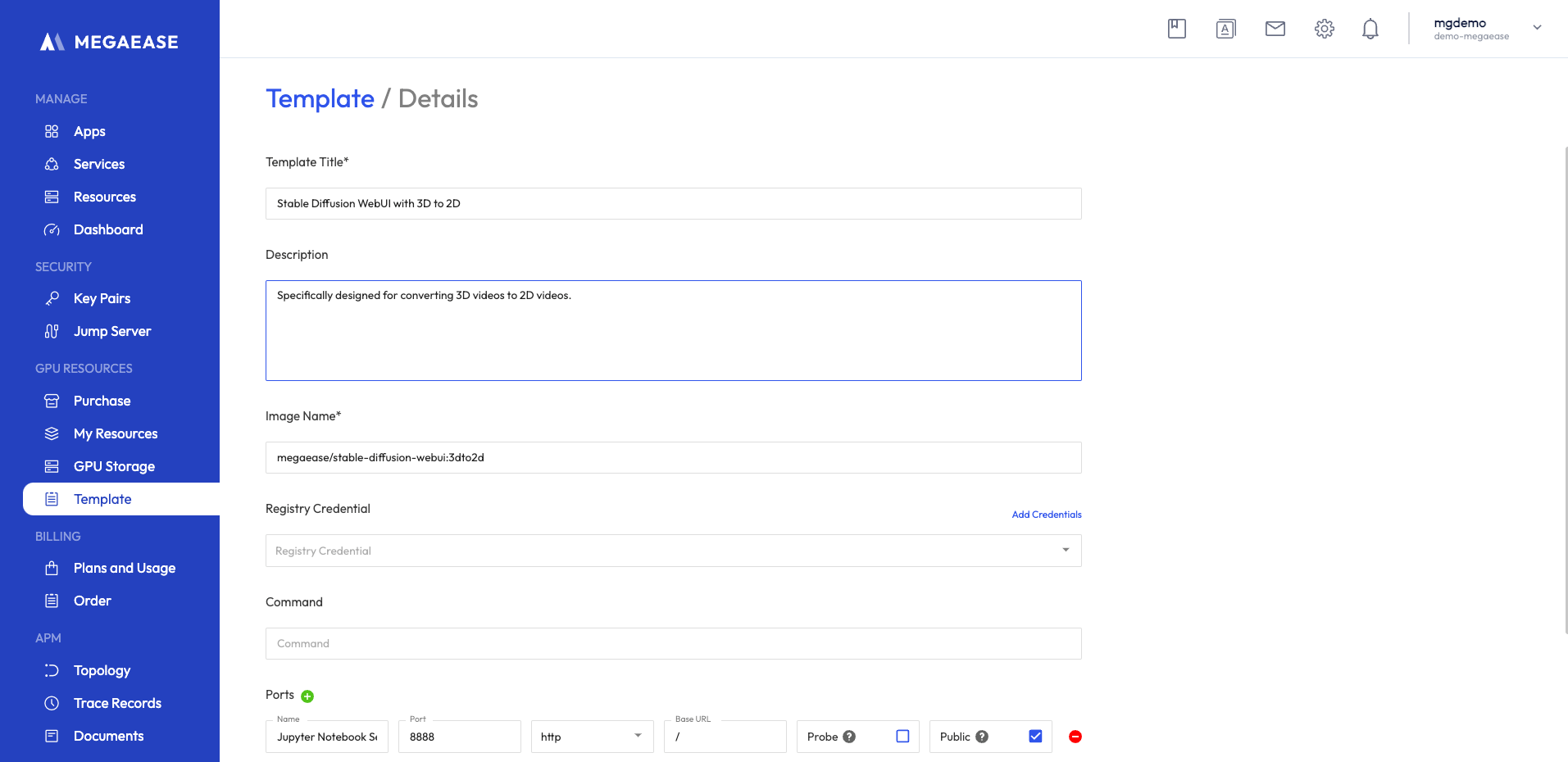 Use custom templates: Once created successfully, you can select a custom template when starting a GPU task.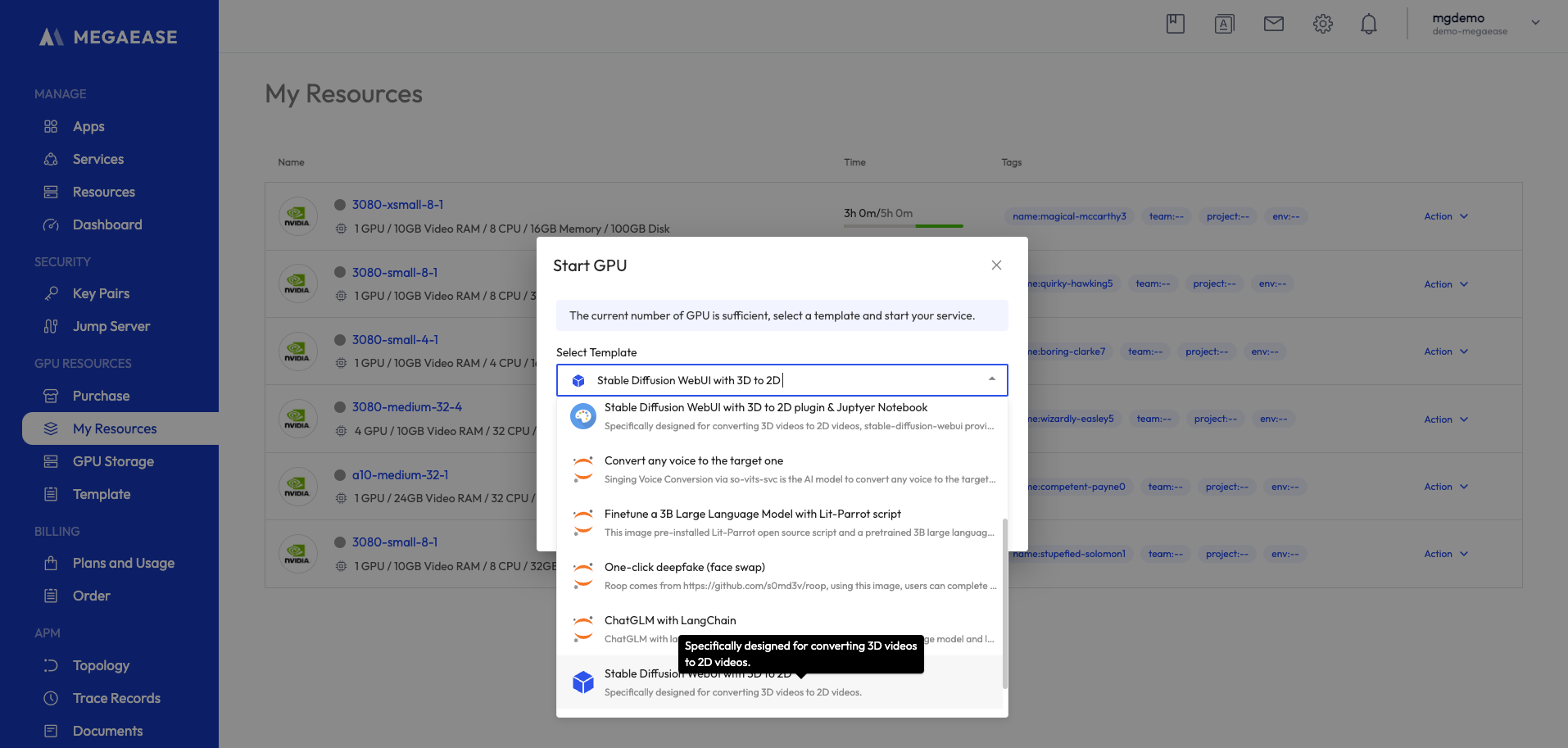 After running successfully you can see the monitoring metrics of the container, and we also provide a web terminal through which users can connect to the container to perform the corresponding operations.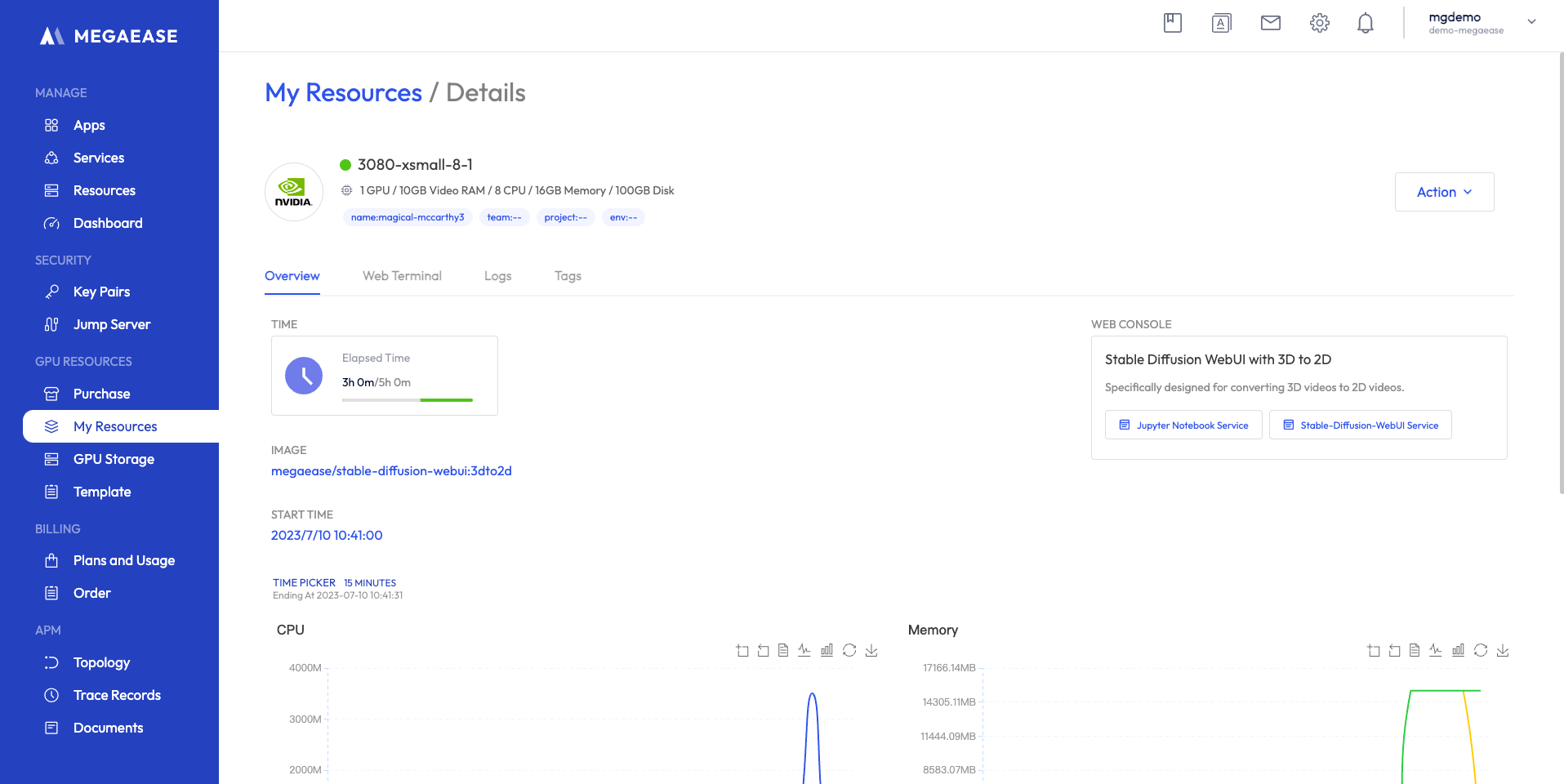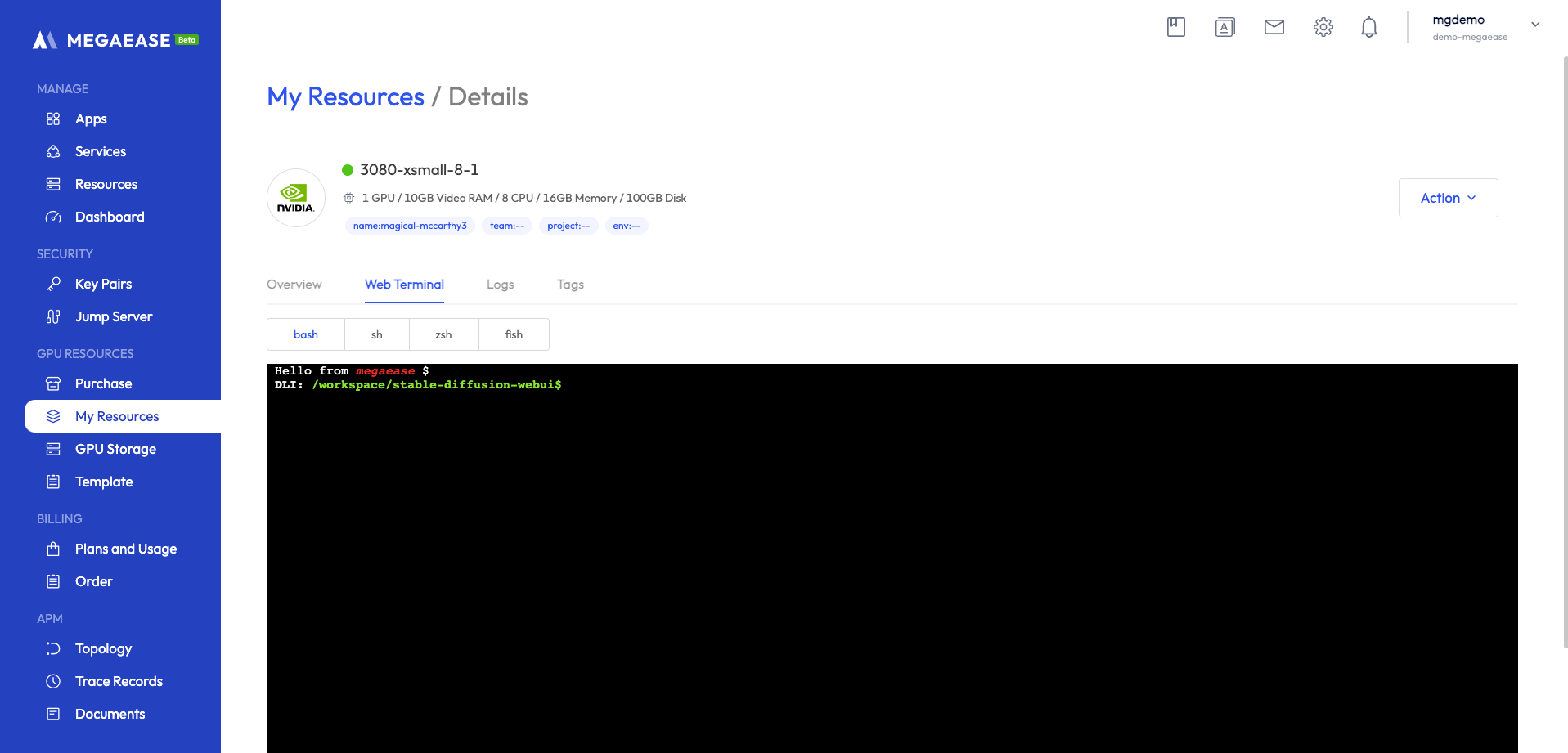 This custom template feature provides greater flexibility and autonomy, enabling users to customize and run specific services based on their needs and scenarios. We also provide a convenient web console portal that allows users to manage and monitor their custom templates directly from the platform. This makes it easier for users to manage their services and perform necessary configurations and operations without relying on simple templates or restricted tasks provided by the platform.
With the custom template feature, users can better utilize the leased GPU resources and meet their scenario-specific needs. This provides users with more flexibility and options to better leverage the GPU services provided by the platform to speed up their own task execution and improve productivity.
We believe this feature will bring a more efficient and convenient experience for every user, making it easier for you to explore and discover the fun and value of AI technology. Let's join the world of AIGC and experience the constant changes and progress in this field
Platform paid features
This service is currently only available on cloud.megaease.cn, cloud.megaease.com is not available due to network reasons.
MegaEase Cloud has been in public beta for more than six months now, and during that time we have continued to improve and enhance our existing features, continue to add new features, and steadily design and implement our paid features, which are designed to help us provide better, more stable, and more exclusive services to meet the needs of our users. The paid features of MegaEase Cloud are designed to help us provide better, more stable and more exclusive services to meet our users' needs. By paying the right amount of money, we can also support the long-term stability of our company and continuously improve and expand the services we offer to our users.
Tenant Balance
MegaEase Cloud introduces a balance account for each tenant. Users can use the balance to perform payment operations, such as upgrading payment plans, expanding quotas, using it for monthly bill deductions, etc. When the balance is insufficient, the balance can be increased by topping up.
Paid Plans
MegaEase Cloud has 3 pre-built paid plans in the system according to different needs: Free, Standard and Premium. Each plan contains different quotas (features and capacity) that users can choose according to their needs.
Paid plans are billed on a monthly basis. The system assigns the free version of the plan as the default for each tenant.
Quota expansion
If the quota included in the current paid plan does not meet the user's needs, the user has the option to upgrade the paid plan or to expand the required quota separately.
All quotas included in the paid plan can be purchased separately, and the paid plan is only a collection of offers for the quotas it includes.
The expanded quota is billed on a monthly basis.
Chargeback
Chargebacks for paid items will occur in two ways:
The first time you subscribe, you will be charged immediately, minus an equivalent discount from the current date to the end of the month.

A pre-deduction will be made at the beginning of each month for paid programs (including paid plans and expansion quotas) that have been subscribed to.
By default, the tenant balance is used for deduction of fees, so please keep your balance sufficient. Missing charges will result in the cancellation of subscribed content and the release of used resources for recycling.
For more details on paid features see our instructions for use [Pricing and Billing]
Follow up plan
GPU Template Market
As you have noticed, MegaEase Cloud's GPU service has been evolving. To better develop the usage scenarios for GPU services, MegaEase plans to gradually launch an application marketplace for GPU templates. This initiative aims to enable a wide range of AI users to share and contribute their own templates for everyone to use. This will provide more choices for users and facilitate the sharing of knowledge and experience, thus enhancing the benefits of the entire community. We look forward to your active participation in building a thriving GPU application ecosystem.
Cloud Storage Data Synchronization
In addition to the above mentioned features, in order to facilitate users to use a large amount of data and models quickly and easily, we will introduce the data synchronization function, both netdisk and local storage data synchronization function. Using the services of domestic netdisk providers, you can easily synchronize data between netdisk and local storage quickly in order to utilize these valuable resources more efficiently. The introduction of this feature will provide users with more flexible data management options, making it easier to store and access data. We look forward to the introduction of this feature to further enhance your experience on the AIGC platform.
Stay tuned for these exciting updates, and thank you for choosing MegaEase Cloud!
If you have any feedback, please feel free to contact us: service@megaease.com